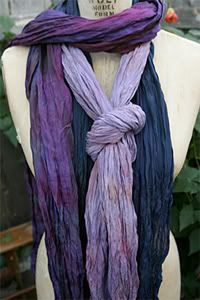 The Wardrobe, in conjunction with Davis' Downtown Art About, presents "Wearable Art Scarves by Susan Eastman"
on Friday, June 10
th
, from 4-9 pm. Music will be provided by The Sound of Fashion DJ's Emily and Todd. There will also be scarf tying demonstrations at 5 and 7pm. This event is free and open to the public and refreshments will be provided.
For more information, call The Wardrobe at 530.756.1128 or email
staff@thewardrobe.com
Ms. Eastman is a fiber artist who hand dyes her 100% silk scarves in her environmentally conscious San Francisco studio. She was recently featured at the De Young Museum. Her new collection is lightweight, colorful, and perfect for summer.